Welcome from our Head Teacher
I am delighted to welcome you to Notley Green. We are a family orientated school with a strong focus on achievement, enjoyment and personal development. Our building was designed to be low energy consuming with recycled materials throughout and a living roof across the main structure. This focus on the importance of caring for our environment remains to this day and is intertwined throughout our curriculum.
Whilst on their journey through Notley Green, children experience a carefully planned and broad curriculum which enables them to find hidden talents and become well-rounded individuals. They have the opportunity to showcase what they have learnt through open days, exhibitions and whole school events, such as: sports day and performing arts day. Units of learning are enriched through external trips and 'scintillating starters' which aim to capture their imaginations and spark enquiry.
Within our grounds you will find a range of areas designed to add to the wider curriculum and provide spaces for communication and social development. Our sensory garden, forest school area and allotment provide spaces for children to experience the many benefits of working with nature. The reading area and circle of blossom trees encourage children to sit calmly and spend time in conversation. Finally, our trim trail and Astro support the physical development of our children whilst learning the school curriculum and whilst at play.
We hope you enjoy exploring our school through this website. However, if you are unable to find what you are looking for, please do not hesitate to contact us through our school office.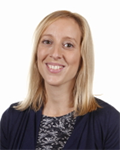 Emma Saward
Head Teacher